Empty space, drag to resize

Empty space, drag to resize
If you are already an unraveled member, please sign in to become an affiliate using your current account.

The Unraveled community is so incredible, because of people like you! You are the magic that keeps Unraveled a positive and safe-space for photographers to freely express themselves! We are a community of creatives who are each unique and special from a myriad of walks of life! Our doors and arms are open to photographers at every stage of their creative journey– from hobbyists to seasoned professionals. There is always a seat at our table! We love everything YOU bring to the table, including WHO you bring to the table... if your inner-circle is even just a bit as amazing as you are, we want them here too! Our Affiliate Program allows us the opportunity to compensate you for helping us to grow this community! We aren't interested in pouring our money into fancy marketing ploys... we would rather give back to the people we love most! And who better to help us grow than the people who make Unraveled Academy the incredible space it is? We love you.

HOW THE UNRAVELED AFFILIATE PROGRAM WORKS


Join for free. It only takes 1 minute to sign up as an affiliate and start promoting. With 50% affiliate commission, earning money has never been easier! If you already have an account with us, login and get started!

When you become an affiliate, we'll provide you with an affiliate ID. Share any product link including your ID. We track every page you share.

When someone visits the link you have shared and purchases a product, you'll earn 50% not only on the initial sale, but also on any recurring payments they make.

Not sure how to share on social media? We aren't instagram... we aren't about to ask you to sing and dance while pointing to stupid words while music plays over the top. We only want you to share your truths! If you love Unraveled, then that will come through in your testimony! This is an opportunity to help grow our community and surround yourself with even more people you love... so speak from the heart! There is no right or wrong way to share! Just stay true to you and the experience you've had while at Unraveled!

Spread the love and give your friends one month free at Unraveled during our Open House by using the code: OPENHOUSE

We have included a downloadable standard template with all the info, if you want to share it on social media... but honestly, we'd rather you just share your own work paired with your own words straight from the heart!

Don't forget to include your affiliate link!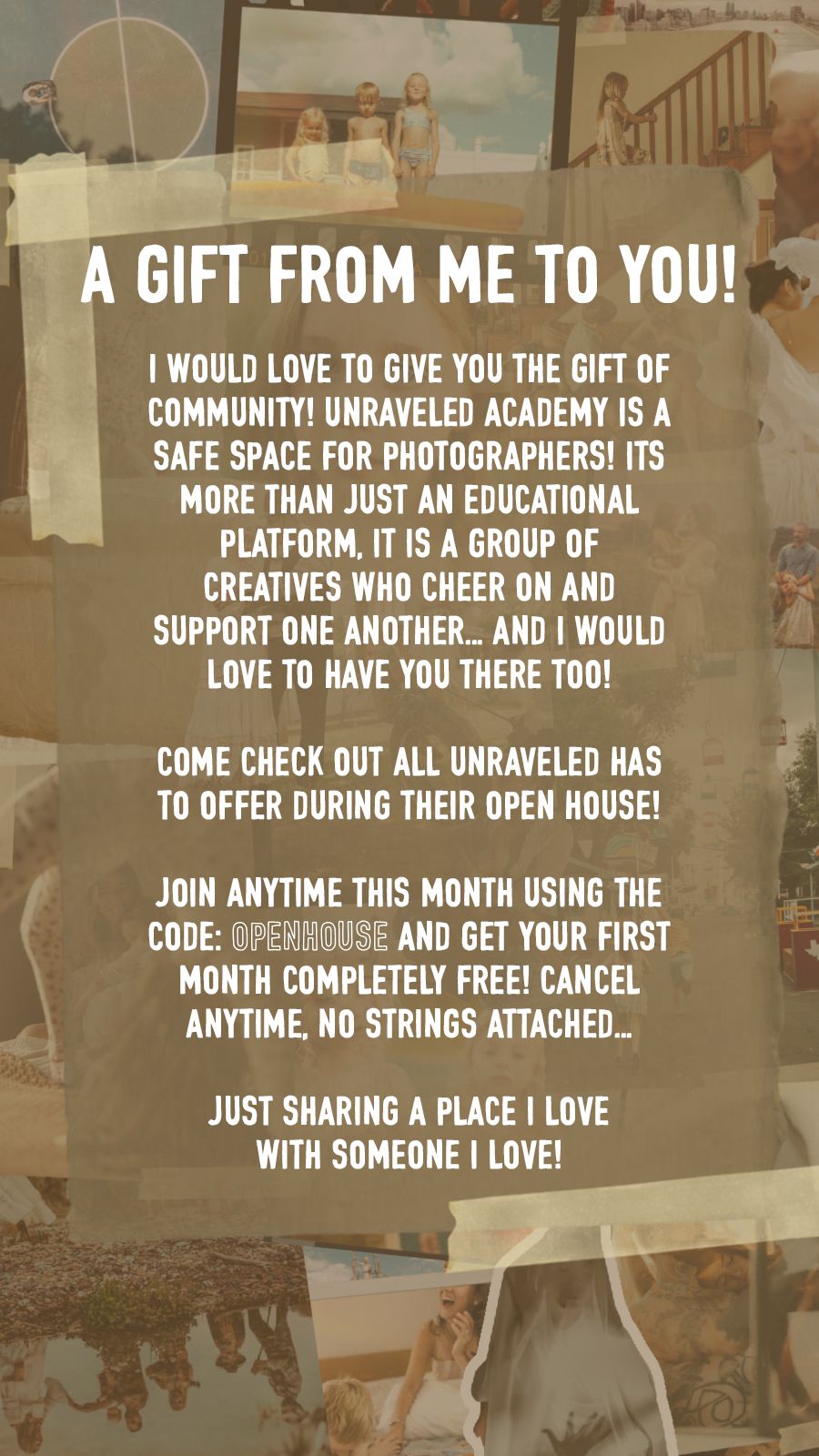 1. Are there any fees or costs associated with becoming an affiliate?
There is no sign up fee or cost associated with becoming an Unraveled affiliate.
2. How long do the cookies last?
Our cookies last for 120 days. This means that you get credit for any referred customer who returns to our site within 120 days, even if they do so directly.
3. Is there an agreement that I need to accept before becoming an affiliate?
In order to become an affiliate you will need to agree to the Terms and Conditions of our Affiliate Program.
4. On what products do I earn a commission? and do I receive commissions each month?
This affiliate program is for our monthly membership only. The program runs for 6 months and you receive 50% every month for each member who signs up using your link during that time period. You will be paid out in full after the 6 months have been completed.
5. Can I stop promoting at any time?
Of course, there is no commitment. You reserve the right to stop promoting a single or all of our programmes at any time.
Looking for your affiliate link?

We are here to help!
Watch as Melissa guides you through finding your affiliate link so you can start sharing! Thank you for your support!